The Skirt Question
From the beginning when Kristin first came up with the idea for a blog about godly womanhood and femininity, writing posts has been a challenge. Before I began writing posts, I thought I knew what godly womanhood meant. Now, as I have been faced with the challenge of articulating those beliefs, it has caused me to do some Scripture searching and soul searching. The following post has been especially difficult to write, as it includes some subjects that are rather controversial among Christians. When approaching this subject, I had to try and make sure that I was not allowing my personal opinions to blind me from seeing the truth. I pray that as you read this, you will try to do the same thing.
A couple of weeks ago,
David Boskovic
asked us the following
question
:
"...you girls should do something on BftH [Beauty from the Heart] on why you don't consider wearing pants to be something non-feminine. I'd really like to hear your thoughts on that, because in my opinion that's a major part of the definition. It appears from a couple articles I read that you would agree, but where's the practice? Ok, I don't mean to ruffle any feathers. Just want to hear what you have to say."
Thank you for the interesting question, David. First of all, I would like to say that I do wear skirts and have nothing against those women who choose to wear them all the time. That, I believe, is their personal prerogative. Yet when approaching this subject I would be very, very cautious of drifting into legalism.
In Dueteronomy 22:5 "The woman shall not wear that which pertaineth unto a man, neither shall a man put on a woman's garment: for all that do so are abomination unto the LORD thy God." (KJV) This begs the question, what is it that "pertaineth unto a woman?" What is womanly?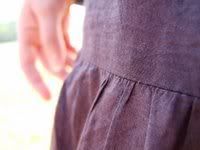 Some believe that women must wear dresses/skirts to be feminine, but this idea is based on the supposition that skirts/dresses are inherently women's clothing. In the United States we consider skirts to be solely a woman's garment, though in other cultures it is not always so. During Old Testament times it was not only women who wore skirts. In 1 Samuel, David cuts off a piece of Saul's "skirt." (1 Samuel 24:4, KJV) Boaz was also mentioned as wearing a skirt (1 Samuel 15:27, KJV). In Ezekiel 16:8, God refers to using His skirt to cover Israel's nakedness. Since skirts were worn by both men and women, women need not necessarily wear skirts/dresses to appear feminine.
As I said before, I have nothing against women who wear skirts and dresses. In fact, I admire them for going against the cultural norm. But I would also caution against drifting into legalism on this subject, as it is not directly spelled out in the Bible. We do not wish to be like the teachers of the law whom Jesus rebuked as those who only honored Him with their lips and taught "as doctrine the precepts of men." (Matthew 15:9) Jesus makes it clear in this passage that it is the inside--our hearts--that is more important than our appearance.
I once heard a woman speak of how she tried to emulate the godly women around her. She began by copying their cooking, dressing like them, and talking like them. Eventually she realized that, though she did her best to have the same appearance as that of the godly women around her, without Christ she was still dead inside. It is Christ inside of us who gives us life and it is the Holy Spirit that purifies our hearts. Who we are on the inside will manifest itself in our appearance. If we are content in our hearts with being women, then it should result with us looking feminine. Femininity is not merely external but becomes external when we treat others gently and when we serve and esteem others as more important than ourselves. Whether we are clothed in a skirt or even something unattractive....beauty comes from the heart.
Any thoughts?

Posted by Hannah

Labels: femininity