Focus, focus, focus!
I'm a new driver. I've only been at the wheel a little over a year. As a new driver, it was tempting to fall into the "old habit" of wanting to look at all the events happening around me. That was fine when I was a child in the backseat of the van, but it's quite a different story when I'm in control. I needed to learn to focus on the road ahead of me. It was an easy lesson to learn actually. I knew that the results could be deadly if I became distracted. But what about spiritually? As a Christian, am I still in the habit of gazing at the events around me instead of focusing on the path the Lord has for me?
Proverbs 4:25 says,
"Let your eyes look straight ahead, fix your gaze directly before you."
Just as my driving instructors had to impress upon the importance of fixing my eyes on the road, God has been impressing upon my heart the same message in all areas. Spiritually there are many distractions that can keep me from focusing on the "road". The one that I'm most tempted by is comparing myself to others.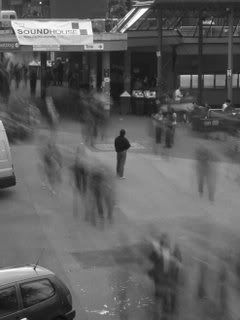 Lately, it has been hard to focus on God and not compare myself to those around me - especially to those who seem popular and have it all together. I'm sure many of you ladies can relate to this. God calls us to be set apart from the things of this world, and yet I am constantly distracted by them. My "old habit" needs to change. Jesus is the only one who can change my habits.
The next time I'm tempted to compare myself, I need to be reminded that this is all temporary. We should be focusing on God and the path He has laid out for us.
Therefore, since we are surrounded by such a great cloud of witnesses, let us throw off everything that hinders and the sin that so easily entangles, and let us run with perseverance the race marked out for us. Let us fix our eyes on Jesus, the author and perfecter of our faith, who for the joy set before him endured the cross, scorning its shame, and sat down at the right hand of the throne of God. ~Hebrews 12:1-3
Posted by Kristin
PS- Sorry for the lack of posts these last few days. Some of us are trying to wrap up our school year and have been quite busy with that! Thanks for being patient...